After completing your intermediate level education, you will be eligible to study your undergraduate level. Under Graduate level is also called Bachelor's degree, so do not be confused. To study abroad in under graduate level, different country's universities/colleges require different documents to admit. But these are the common documents that most of the universities and colleges of different country require.

English Proficiency Test score sheets (IELTS, TOEFL etc scores to study in English speaking country.)

Academic Certificates of Secondary level and Intermediate level.

Character Certificates, Police Reports as evidence to show that you are not engaged in any criminal activities.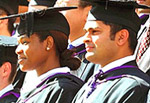 Recommendation Letters from your teachers.
Demand drafts for the applicable fees.
Procedures to study abroad in Under Graduate Level
First, after completing your intermediate level, choose the destination (country & university/college) which will be suitable for you. Then, you have to be prepared for the basic language of that specific country. i.e. if you choose to study in English speaking countries like US, UK, Canada, Australia, it will be suitable to you to give a English language proficiency test like TOEFL, IELTS etc. For that you must have basic idea about test which you can get from the Test Preparation of this website and also to get deep knowledge on test, you can join test preparation classes conducted by many institutions. If you do not want to waste your time, you have to apply for your desired college/university with fees required to apply. If college/university accept you, they will send you the letter acceptance. After that, preparing the documents required for the visa, apply for the visa. If visa is issued to you, then finally pay the tuition fees to your college/university and join university.